NYCDDC HWCSCH4B1- School Safety Program, Brooklyn, NY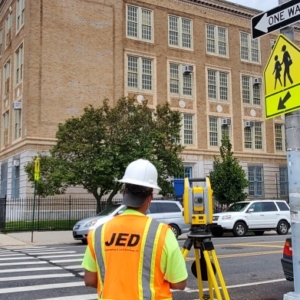 JED Land Surveying provided Topographic, Utility and Control Survey services for the preparation of As-Built maps. These maps were needed for the NYCDDC's School Safety Program. NYCDDC partnered with NYCDOT to provide Safe Routes to schools with the highest accident rates. For the short term, improvement included new traffic and pedestrian signals, speed bumps, speed detection signs, high visibility crosswalks, school pavement markings and new parking regulations. The long term improvement included roadway reconstruction, realignment of curbs, sidewalks, curb extensions and infrastructure/utility work.
Sites included:
PS 398 (Hector Figueroa Elementary School) – 60 East 94th Street, Brooklyn
PS 13 (Robert Clemente Elementary School) – 557 Pennsylvania Avenue, Brooklyn
PS/IS 226 (Alfred De B Mason Elementary School) – 6006 23rd Avenue, Brooklyn
MS 136 (Charles Dewey Middle School) – 4004 4th Avenue, Brooklyn
The Topographical and utility survey required the establishment of Horizontal and Vertical controls using GPS, precise digital levels and five – second robotic total stations. All data collected was in NAV83 (Horizontal) and NAVD 29 Brooklyn Highway (Vertical) datum.
Construction Cost: $5.6M
 Status: Completed_2019